As a toy that let you make your own delicious foodstuffs, the Easy-Bake Oven was the granddaddy of all snack foods. The Easy-Bake Oven was introduced in 1963 by Kenner Products, a Cincinnati, Ohio based toy company.[2] The original Kenner Easy-Bake Oven was heated by two 100 watt incandescent lightbulbs, came in a pale yellow or turquoise, and was designed to resemble a conventional oven.[3] The design changed many times over the years. A more recent model resembles a microwave oven.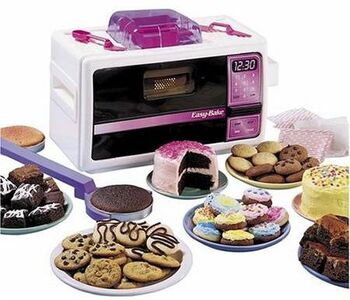 After Kenner became a division of Hasbro, Hasbro continued to produce the oven.[6] The Easy-Bake Oven and Snack Center was introduced in 1993.
In 2002, a version for boys, the "Queasy Bake Cookerator," was introduced.[7]
A decade after the Easy-Bake Oven and Snack Center was introduced, the Real Meal Oven was released. This oven was different from the others as it could cook larger portions and could cook two with two pans at the same time. It won the 2003 Best Toy Parenting magazine Toy of the Year Award. The neutral colors were more accepted across gender lines. The pans were larger, and it could bake both desserts and meals. Also, this model featured a heating element and did not require a light bulb.
In 2006, a different version of the Easy-Bake was released, featuring a stove-top warmer, and a heating element. But like Hasbro's first version, it had smaller pans, and it could only bake one pan at a time.
The new front-loading Hasbro design, a substantial departure from the traditional push-through arrangement, was apparently ill-conceived, as all (approx. 985,000) such units were recalled over safety concerns and reported injuries.
The oven was inducted into the National Toy Hall of Fame in 2006.