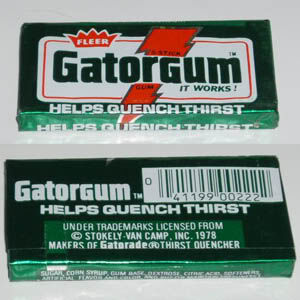 In the late 1970s and early 1980s, as well as the late 90s to early 2000s, a Gatorade brand of chewing gum called Gator Gum was produced. The product, manufactured by Fleer Corporation, was available in both of Gatorade's original flavors (lemon-lime and orange). In the late 1970s, Stokely-Van Camp (owner of Gatorade before 1983) negotiated a long-term licensing deal with Swell and Vicks to market Gator Gum. The gum was discontinued in 1989 after the contract expired.
Debut on 1981 Default on 1989
Community content is available under
CC-BY-SA
unless otherwise noted.