Oreo O's was a breakfast cereal made by Post Holdings which consisted of Oreo-flavored O-shaped pieces of cereal.[1] [2] A variation of Oreo O's called Extreme Creme Taste Oreo O's contained Oreo filling flavored marshmallows.[3]
The cereal was launched in 1997[1] and discontinued in 2007 everywhere outside South Korea.[4] The cereal is no longer available outside of South Korea because Post and Kraft are no longer co-branding. Post owns the recipe to the cereal, while Kraft owns the rights to the Oreo brand name.[5] In May 2017, Post Cereals announced that it would restart production of Oreo O's indefinitely starting June 23. This comeback made a lot of people very happy.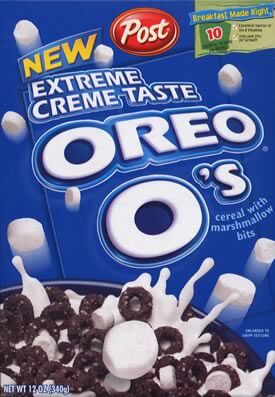 International availability
Although unavailable for purchase in the United States, Oreo O's are still produced and readily available in South Korea, with boxes of this product being available for international purchase on eBay.[6] Korean food manufacturer Dongsuh Foods was established as a joint venture of General Foods and a South Korean food company, and was licensed to produce Post Holdings cereals in Korea. When Kraft Foods acquired General Foods, half of Dongsuh Foods' stock automatically became property of Kraft, thus making Dongsuh Foods the only company with both licenses required to make Post Holdings Oreo O's
Community content is available under
CC-BY-SA
unless otherwise noted.