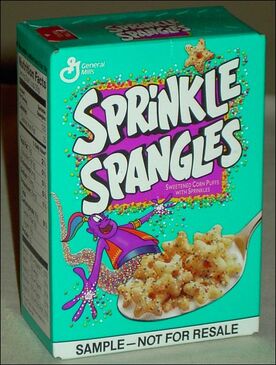 Sprinkle Spangles was a short-lived
breakfast cereal
by
General Mills
. It was introduced in the early 90s. The cereal was of star-shaped pieces covered with multi-colored sprinkles. The commercials claimed that they "Spangled every angle with sprinkles." Sprinkle Spangles were no longer available in 1995.
The Sprinkle Spangles mascot was the Sprinkle Genie (voiced by Dom DeLuise). He would often appear in front of children who wished they had sprinkles for breakfast. The Sprinkle Genie's own catchphrase was: "You wish it, I dish it!" The mascot was dropped before the cereal was retired.
Debut on 1993
Default on 2000
"You wish it, I dish it!"
"Spangled from every angle with sprinkles." (longest-used slogan)
"It's every kid's wish come true."
Community content is available under
CC-BY-SA
unless otherwise noted.