In 1996, Coca-Cola started production on Surge, a variation of the Norwegian soft drink named Urge. Surge was produced and marketed in the United States, with its original whitepaper name being "MDK," or "Mountain Dew Killer."[1] Surge's release was accompanied by a vast nationwide marketing campaign that led to initially high sales and popularity. A few years after the release, sales began to slip, and as a result the Coca-Cola company ceased production of Surge in can and bottle form in 2002. They proceeded to discontinue Surge fountain syrup in 2003[citation needed].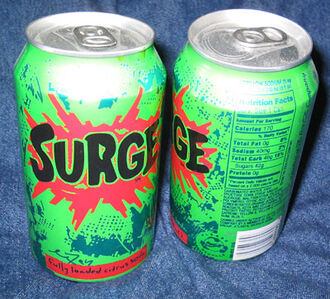 Norway is the only country where one can still buy a similar soft drink in any form, as the original Urge recipe is still popular there.[2]
Surge was widely associated with the extreme sports lifestyle, with television commercials similar to those used by Mountain Dew at the time.[3] Coca-Cola also used provocative catchphrases to market Surge to extreme sports enthusiasts and teenagers alike. Some of these catchphrases included "Feed the Rush", "Life's a Scream" and the references to Surge as "A Fully Loaded Citrus Soda." Further touted was the fact that Surge had a considerable number of carbohydrates, hence the "with carbos" tagline that was occasionally used in the marketing campaigns to emphasize the fact that Surge was supposed to be more than a soda, but an energy drink as well.[4]
Community content is available under
CC-BY-SA
unless otherwise noted.